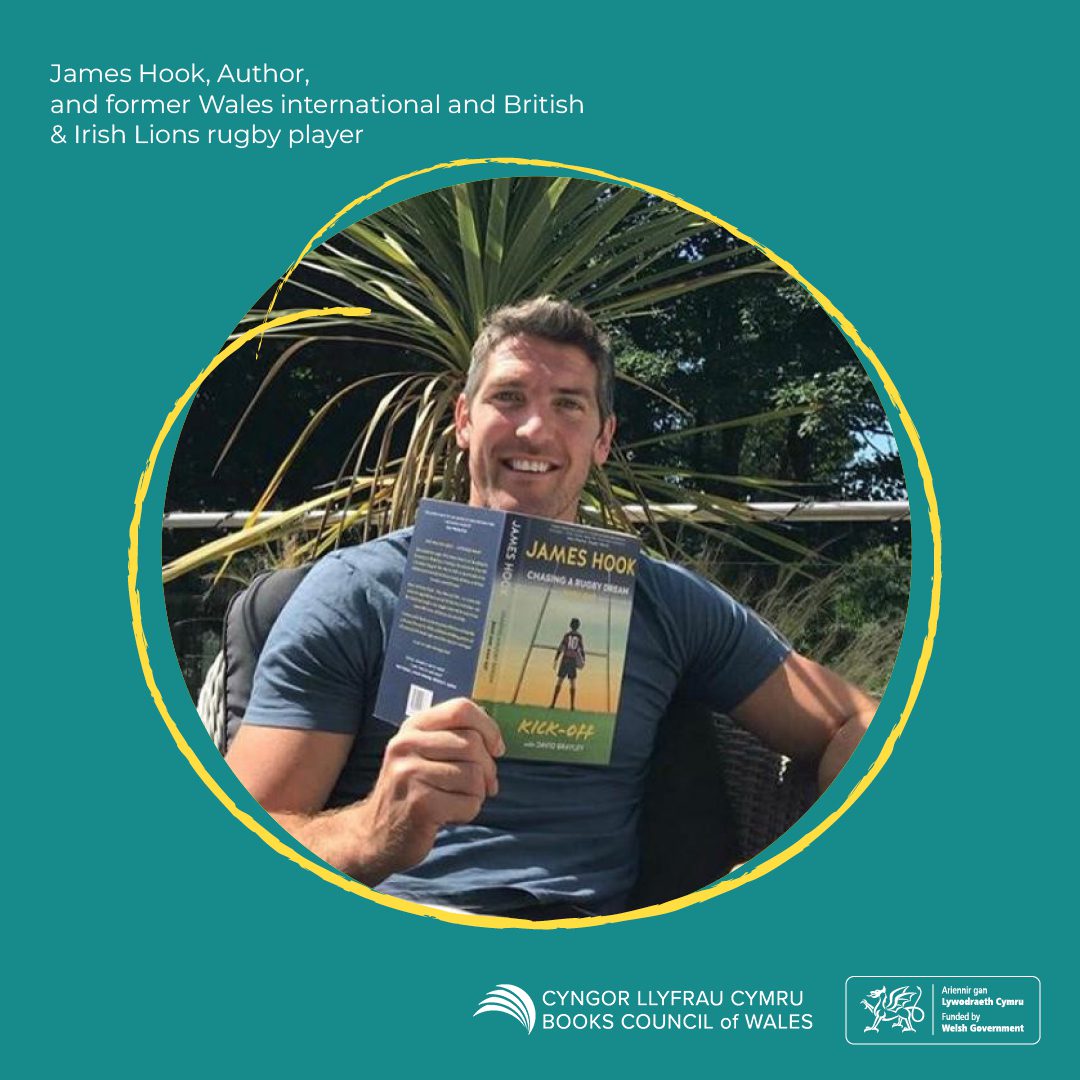 JAMES HOOK
James Hook is an author, and former Wales international and British & Irish Lions rugby player.
James grew up in Port Talbot, and played for Neath RFC, Ospreys, Perpignan and Gloucester over the course of his 13-year club career. He also made 81 appearances in the Welsh national side between 2006 and 2015.
After a glittering career at all levels of the game, James retired from professional rugby in 2020, taking up a coaching role at one of his former clubs, Ospreys.
He lives with his wife Kim and their 3 sons, and has recently authored two fictional rugby books with co-author David Brayley.
"Reading and creating a calm environment is essential when you have three young boys in the house."

Whether it's books, magazines, newspapers, online articles or an e-reader, all forms of reading can help a child learn new things and develop their brains. Though it's difficult to pry children away from phones and games consoles, you can learn so much through reading, and it's an alternate form of entertainment to screen based technology.
I am a big chocolate lover, so Charlie and The Chocolate Factory by Roald Dahl was one of my favourite stories as a child. The Mr Men series by Roger Hargreaves was also in my 'most read' pile, and the books form some of my earliest memories of reading, and they still seem to be very popular today.
Growing up, there weren't many books about rugby, or characters in literature who were totally rugby mad like me! I wanted to read about things I had a passion for, but there weren't many choices available to me. This lack of fictional books about rugby inspired me to writing my books, so other girls and boys who love rugby, or any kind of sport, can be inspired by them.
I also wanted to write books because I've got three sons, and I want to try and encourage them to read as much as possible.
At the moment my focus is on my children's reading and ensuring I'm reading with them so they are constantly learning. Our five-year-old son is beginning to bring home books from school and it's a key part of his early development, so I spend a lot of time reading with him. I also enjoy reading my books to them and I like to make up stories for them using my imagination. Without the reading I did when I was younger, I probably wouldn't be able to make up the stories I do for my children now.
Bedtime is my favourite time to read with the boys. When they come home from school they're a little restless from their busy days, so bedtime is a great opportunity to settle them down, read a nice book and have some lovely family time together. Reading and creating a calm and quiet environment in the evening is essential when you have three young boys in the house.
"You can really take the best from books and put them into practice in your own life."
As an ex-rugby player some may not think of me as an author initially, but I did enjoy writing stories and being imaginative in school, so it's always been an interest to me. I'm glad I've been able to take that forward into my adult life. I want my books to inspire other people to be more creative.
You don't have to be just one thing in life, you can follow many roads. Sports, art, writing, science and so on. Books are inspiring and you can really take the best from them and put them into practice or adopt them in your own life.
My books are fictional, but they're based loosely on my career on and off the field, reflecting on the issues of bullying, school, and the highs and lows of a career in sport.
I have a passion for rugby, as a fan, as a player, and now as a coach. I'm able to communicate that love and interest through the writing in my books. It's so important to read things you enjoy; it encourages you to keep up with your reading.
"Seeing realistic life journeys reflected in books is so important."
The beauty of reading is that it's for everyone, which means we should be including everyone in books, whatever walk of life they're from.  How can we expect children to find a passion for reading, if they can't see themselves reflected in the characters?
Seeing realistic life journeys reflected in books is so important. Not everything is smooth sailing – there are bumps in the road and you have to work hard to get where you want to be, I don't think we should shy away from showing that in books.  Imaginative fictional story books are great and it's good to let your imagination run wild, but I do believe books should reflect real people and real stories.
Reading has me helped hugely in the work I do now. As a sports coach, an author and also owning a business, I do a lot of reading and writing, so reading from an early age has given me an advantage. I encourage parents to get their children reading as soon as possible, it's only going to benefit them in the future, whichever job they choose.
"Libraries can provide a warm and safe little haven for both parents and children,"
Things are quite tight for a lot of families at the moment. However, people can and should go to their local library if they're struggling to buy new books for their children, they're fantastic and they have a real sense of community. I visited Neath library with my co-author just recently for World Book Day and it was brilliant to see the children picking out books for themselves and being excited to read them.
There is so much variety in terms of the books available in the library, and the librarians can support your children as they grow and their reading skills expand. You can also find your fair share of non-fiction and factual books in libraries, for those who are interested in learning something new!
Libraries can provide a warm, welcoming and safe place for both parents and children, away from some of the challenges of day-to-day life.
James' reading list
Charlie And the Chocolate Factory by Roald Dahl
Chasing a Rugby Dream by James Hook and David Brayley
Mr Men book series by Roger Hargreaves
Impact by James Hook and David Brayley