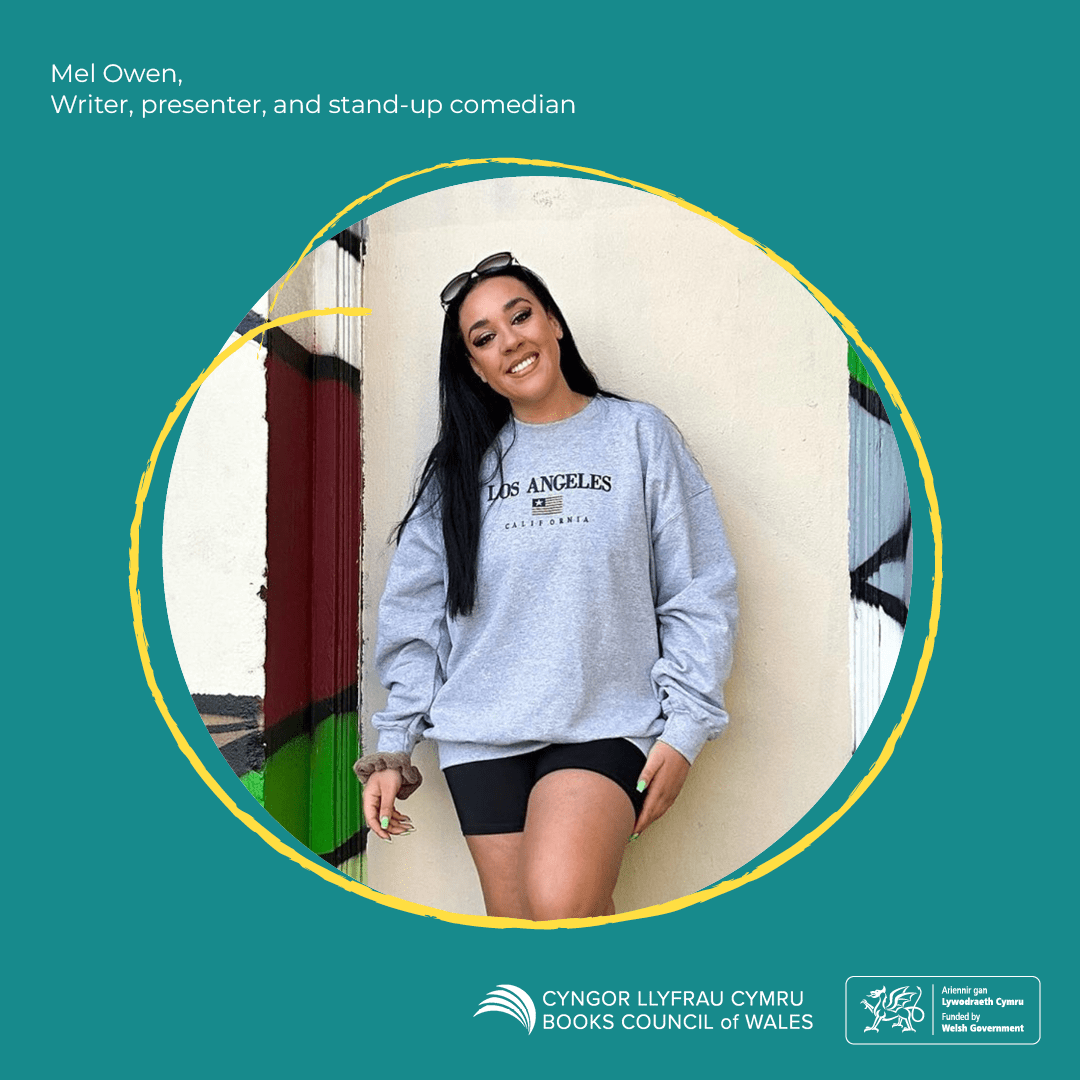 Melanie (Mel) Owen is a Welsh writer, presenter, and stand-up comedian, with script-writing credits ranging from Channel 4 to BBC Wales.
After graduating from Cardiff University with a degree in Law & French in 2017, Mel discovered a love for comedy and has gone on to win stand-up competitions across the UK, becoming a well-loved face in the presenting and comedy sphere in Wales.
Alongside presenting, Mel is also a news commentator for the magazine show, Prynhawn Da on S4C, and regularly features on Radio Cymru. Her podcast Mel, Mal, Jal, commissioned by BBC Sounds, has become one of Wales' most popular podcasts.
"Jacqueline Wilson was my messiah; every time she released a new novel my friends and I would argue over who read it first."
When I was younger, reading was a big thing for me, and I loved anything I could get my hands on.
My favourites were The Lion, The Witch and The Wardrobe and Charlotte's Web, children's books with a sense of adventure. Like every other girl from my generation, I also adored Jacqueline Wilson – she was my messiah. Every time she released a new novel, my friends and I would argue over who read it first.
I also really enjoyed books that told stories about real people. I grew up on a farm in Mid Wales, so I'd like to read about children who had different upbringings to me, perhaps those who grew up in a big city or huge countries like America.
"Female protagonists should be written by women."
Nowadays, reading is still a big part of my sense of self, at any time my choice of book can reflect my mental health, my career, or my personal life.
There are similarities between the books I loved as a child and the ones I'm drawn towards as an adult. I love female authors and I love truism in books. Right now, I love Taylor Jenkins Reid's books, author of The Seven Husbands of Evelyn Hugo. Her books manage to portray both glamour and aspiration with realistic depictions of humanity.
I like female-led narratives, written by women about women because I think it's more realistic. Female characters written by men can fall into stereotypes, in my opinion, female protagonists should be written by women, because we have that lived experience.
One of my favourite female characters is Queenie, the title character in the novel by Candice Carty-Williams. She's very strong. I also like Sephy from Noughts and Crosses by Malorie Blackman. She has a naïve vulnerability but grows as a strong protagonist. It's not a coincidence that these characters are both young black women – I feel like I can connect with them.
It's important that literature is reflective of modern Wales. We need to highlight the Wales that not everyone sees, recognises, or feels connected in their own lives. There are so many aspects to modern Wales and through books we're able to hear about experiences on a very human level.
I also believe books should represent the Welsh language in all its forms. We need to promote Welsh language books, protecting the language and allowing the vernacular, vocabulary, and tones to adapt to the audience. Growing up, I used to read one English and one Welsh book a week, however, as time has gone on, my reading has become less frequent – so it's something I'm trying to pick back up on.
"Fiction is just as powerful as non-fiction when it comes to learning about the experiences of others."
It's important that literary characters who represent minority groups are not solely defined by their 'otherness.' A character with a disability should still have depth, personality and a narrative that goes beyond a singular element of their identity. The story shouldn't always revolve around the character's disability but rather portray them as an important character who just happens to be disabled. I'm not disabled or a member of the LGBTQ+ community, however, I am keen to learn about their experiences, to educate myself and to be a better member of society.
Fiction is just as powerful as non-fiction when it comes to learning about the stories and experiences of others. When written well, fiction can convey strong messages and lessons without having to wave a diversity flag.
"Book swaps are also a great opportunity to read a variety of books that you may have not considered before."
It's so important we encourage children to read for pleasure.
Libraries are a huge asset, and we need to make the most of them. Book swaps are a great opportunity to read a variety of books that you may have not considered before – you only need to buy one book and then you'll get the opportunity to read a handful of others that friends or family have bought.
Another way to encourage young children to read is through audiobooks – a lot of them are free if you look in the right places. An audiobook can be a good entry point for engagement with reading and stories.
Another top tip is to look at new offerings from less established authors, or those who self-publish, these books are often more affordable than books by established bestselling authors.
For me, reading offers the chance to indulge in some alone time. I'm slowly becoming better at putting my phone on 'do not disturb' and sitting down with a book for an hour. This stops me from endlessly scrolling on my phone, and I see huge benefits with my sleep when I read more, especially before bed.
Mel's Reading List
Secrets – Jacqueline Wilson
Pam? – Huw Aaron and Luned Aaron
Noughts and Crosses – Malorie Blackman
Y Pump series of books
The Lion, The Witch & The Wardrobe – C.S. Lewis
Charlotte's Web – E.B. White