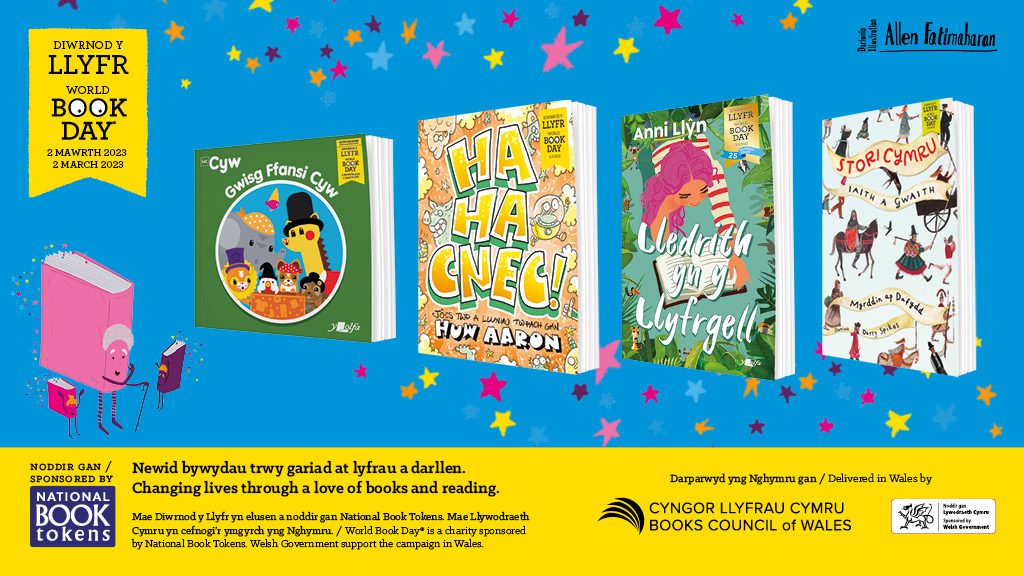 Thanks to National Book Tokens and many wonderful publishers and booksellers, World Book Day, in partnership with schools and nurseries across the country, distribute over 15 million £1 World Book Day book tokens to children and young people every year.
The token can either be exchanged for one of the exclusive, free £1 World Book Day books available from participating bookshsellers or used towards the purchase of another book.
The £1 World Book Day books are a gift from booksellers, which fully fund the cost of the £1 book token redemptions. Please note that the token cannot be redeemed online.
The £ 1 books are also available in braille, large print and audio through the RNIB (Tel: 0303 123 999).
There are exclusive Welsh-language titles for Wales (featured here) and also Ireland. 
You can find more information about the full range of 2023 £1 books here – https://www.worldbookday.com/books/
The £1 World Book Day book tokens will be valid from Thursday 16 February until Sunday 26 March 2023.
Please contact your local bookseller to see if they can offer £1 off other titles. Full terms and conditions are on the World Book Day website – https://www.worldbookday.com/terms-conditions/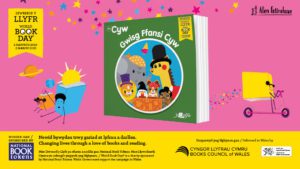 The new Welsh-language £1 book for 2023 is by renowned Welsh author, poet and children's TV star Anni Llŷn – Gwisg Ffansi Cyw (Y Lolfa) and is now available through participating bookshops in Wales.
There are three more Welsh books available for £1 this year: Lledrith yn y Llyfrgell by Anni Llŷn (Y Lolfa), Ha Ha Cnec! (Broga) by author, illustrator and cartoonist Huw Aaron, and Stori Cymru – Iaith a Gwaith (Gwasg Carreg Gwalch) by Myrddin ap Dafydd.  
Details of all the independent bookshops in Wales can be found on the Books Council website.