Charlotte Harding, Mother & Blogger. @witchywales
Charlotte is a blogger, vlogger and parenting influencer from Ferndale with two sons.
"If I hadn't picked up those books in school, I doubt I'd be the person I am today. They helped me through some difficult times in my life."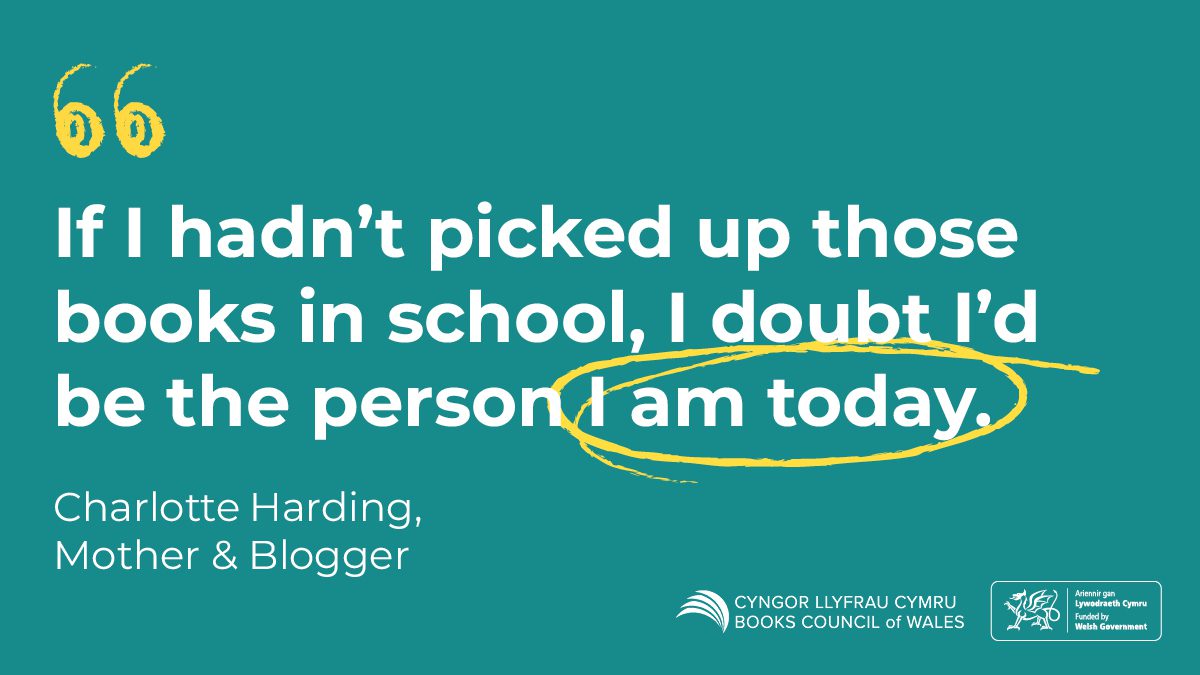 In my opinion, reading is very important, and it is an essential life skill. It's used daily and in everything we do. Most of the time, young people who say they aren't interested in reading don't even realise they are reading things on their phones for most of the day, every day!
One story can be interpreted in so many different ways, with just one story having varying impacts on each individual person and their life. I strongly believe that nurturing a love of reading and books can be very profound and life-changing, but can also just be a great source of enjoyment and education.
You can get lost in books; you can become somebody else. Books aren't just about the words – it's about how they make you feel as a person and how other people react to the books – they bring people together.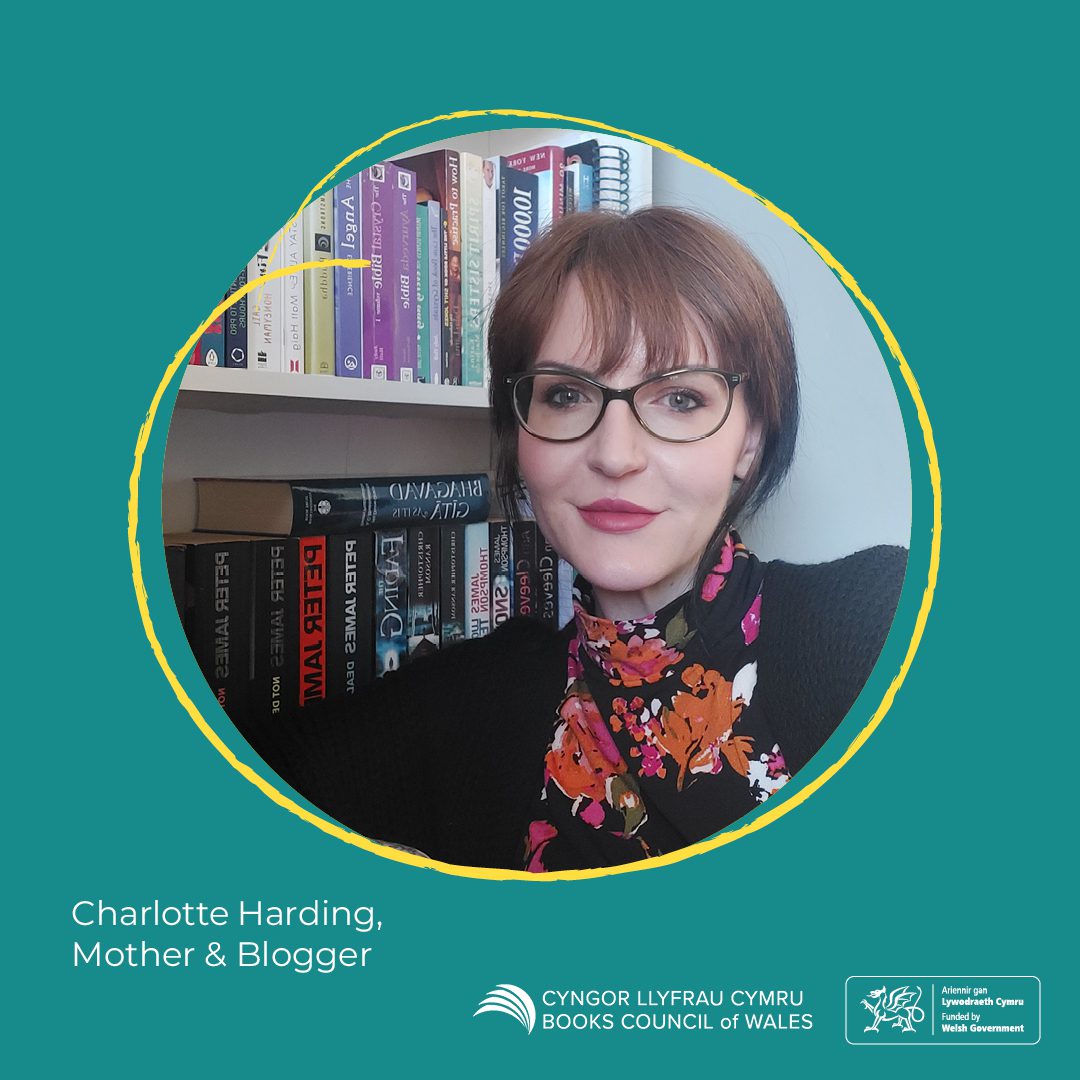 When I was younger books formed such a big part of my community. There wasn't as much choice on TV, so people would actively go out to local libraries, swap books and then talk about them with their friends. It's important this continues, and it isn't all about what you see on TV or YouTube.
Personally, I was drawn to anything magical when I was growing up – anything that captured my imagination and took me out of this world.
My parents divorced when I was seven years old, so the house was pretty disruptive for a few years and my upbringing was sometimes lonely. My mum's living room used to have a huge library and I used to read books like The Chronicles of Narnia series by C. S. Lewis – I found them fascinating as they were so magical, it was an escape. I used to like scary stories as well, like the Goosebumps collection by R. L. Stine. I also enjoyed Judy Blume, It's Not the End of the World. I read that when I was about twelve, and in the book, the young girl's parents were getting divorced. It just spoke to me, as I could relate to what she was going through as I had gone through the same thing and felt similar emotions.
When I was a teenager, I used to get bullied at school and I felt very isolated – I found love and comfort within the school library. That's where I found an interest in biology, mental health, and history. I loved reading about human behaviours, the mind and the way people respond to trauma and triggers. I'm glad I did spend my time reading those books because when you're that age, you're such a sponge and you remember everything, and it set me up for my future. I now work within perinatal mental health; I think those early books helped. If I hadn't picked up those books in school, I doubt I'd be the person I am today, and they helped me through some difficult times in my life.
Nowadays, I like to read stories when I have some free time. When the kids are in school, I'll sit myself on the sofa and read for an hour and that's my enjoyment, when I can properly get lost in a plot and the characters. I also enjoy reading and learning from self-help books and books about mental health, as they've helped me deal with some of my own issues.
When you read for enjoyment, you're relaxing, your stress levels are coming down, and your focus improves – there are so many things that you're benefitting from.
"It's about more than just books. It's about family interactions, energy and time spent together."
With my first son, I developed post-partum psychosis after I gave birth and I found it quite difficult to bond with him. So, I made an effort to read picture books to him during this time, and I did that for a few years. Our bond now is unbelievably strong as a result. He now enjoys reading and sees reading as a comfort and a way to express himself. He relishes the time to look into our eyes as parents and be able to have conversations with us. It's about more than just books; it's about family interactions, energy and time spent together.
For my youngest son, he's active and likes sports and art. Reading isn't as much of a priority for him, so one of the ways I got him interested in books was by using traditional fairy tales, like Little Red Riding Hood or Peter Pan, and asking him to draw me a picture of the ending. He loved it as he got to use his creative side. We did it for about ten different books and he had such fab ideas, it really got his imagination flowing.
With our sons, we loved reading the Harry and the Dinosaurs series by Ian Whybrow and Amelia Reynolds Long, and Francesca Simon's Horrid Henry. We also love the The Dinosaur that Pooped the Bed! by Tom Fletcher. We have a few of Tom's books but that one just makes us laugh so much, it's so funny.
My eldest is now into Diary of a Wimpy Kid by Jeff Kinney, and as he's going to be 11 soon, we bought him Dr Ranj's How to Grow Up and Feel Amazing!: The No-worries Guide for Boys, and it's been brilliant. He does hide it behind his bed because he doesn't want Mummy to know he's reading about growing up. It doesn't have to be an awkward subject anymore; you can just buy them the book and place it on their bed and allow them to read it and approach it in their own way, without them feeling embarrassed. It opens up the opportunity for him to come to me or his dad and ask questions, as he'll feel more empowered to speak about these topics because the book has normalised them for him.
"Books should represent all people in Wales and encourage acceptance of everyone."
I think it's so important that books reflect Wales and all the different people, cultures and walks of life. It is crucial books represent that diversity and encourage acceptance of everyone. It's also vital that the Welsh language and culture are visible in books so we can keep our language alive and encourage young people to continue speaking it.
With the cost-of-living crisis, we're taking steps to ensure reading is still an essential part of our family life, and that our sons develop their reading skills.
We'll go to the charity shops to buy books. We picked up our Diary of a Wimpy Kid books from a big book exchange at St Fagans where we took old books that we no longer read and the boys had outgrown, and then swapped them for other pre-loved books. There's also a little shop in Aberdare that does book exchanges, and we also use the local library.
If the boys are well behaved, every couple of months we head down to a lovely bookshop in Pontypridd where they have a children's section and we let them pick one brand new book. They often get excited as they'll see one that's just come out and they want it. It's so great to see them excited about books.
Within my female friendship group, we always do book exchanges and book shares. If there's a book that we all want in the group but it's quite expensive, we'll all chip in to buy it and then take turns reading it.
I feel passionate about sharing the benefits of books and reading with other parents and children, and raising awareness of how picking up a book can contribute to developing higher reading and writing skills, expanding their imaginations, enriching their vocabulary and also a range of health and wellbeing benefits.
Charlotte inspired reading list and other recommended reads from Wales:
Diary of a Wimpy Kid by Jeff Kinney
Dyddiadur Dripsyn: Trwbwl Dwbwl gan Jeff Kinney (Addasiad Owain Siôn, Rily)
How to Grow Up and Feel Amazing!: The No-worries Guide for Boys by Dr Ranj
Dysgu am Dyfu a Theimlo'n Wych: Llawlyfr i Fechgyn gan Dr Ranj (Addasiad Catrin Wyn Lewis, Rily)
Ti a dy Gorff gan Adam Kay (Addasiad gan Eiry Miles, Rily)
Horrid Henry series by Francesca Simon
Henri Helynt yn Codi'r Meirw gan Francesca Simon (Addasiad gan Siân Lewis, CAA)
The Dinosaur that Pooped the Bed! by Tom Fletcher
Harry and the Dinosaurs series by Ian Whybrow
There's a Dragon in Your Book by Tom Fletcher (Penguin)
Cyfres Chwedlau'r Copa Coch gan Elidir Jones (Atebol)
For more inspiration on what to read next, why not browse our reading lists – https://llyfrau.cymru/en/reading-lists/
Find books in my area
Why not visit your local library www.gov.uk/local-library-services or a bookshop www.booksaremybag.com or www.gwales.com/shopfinder to discover your next book?