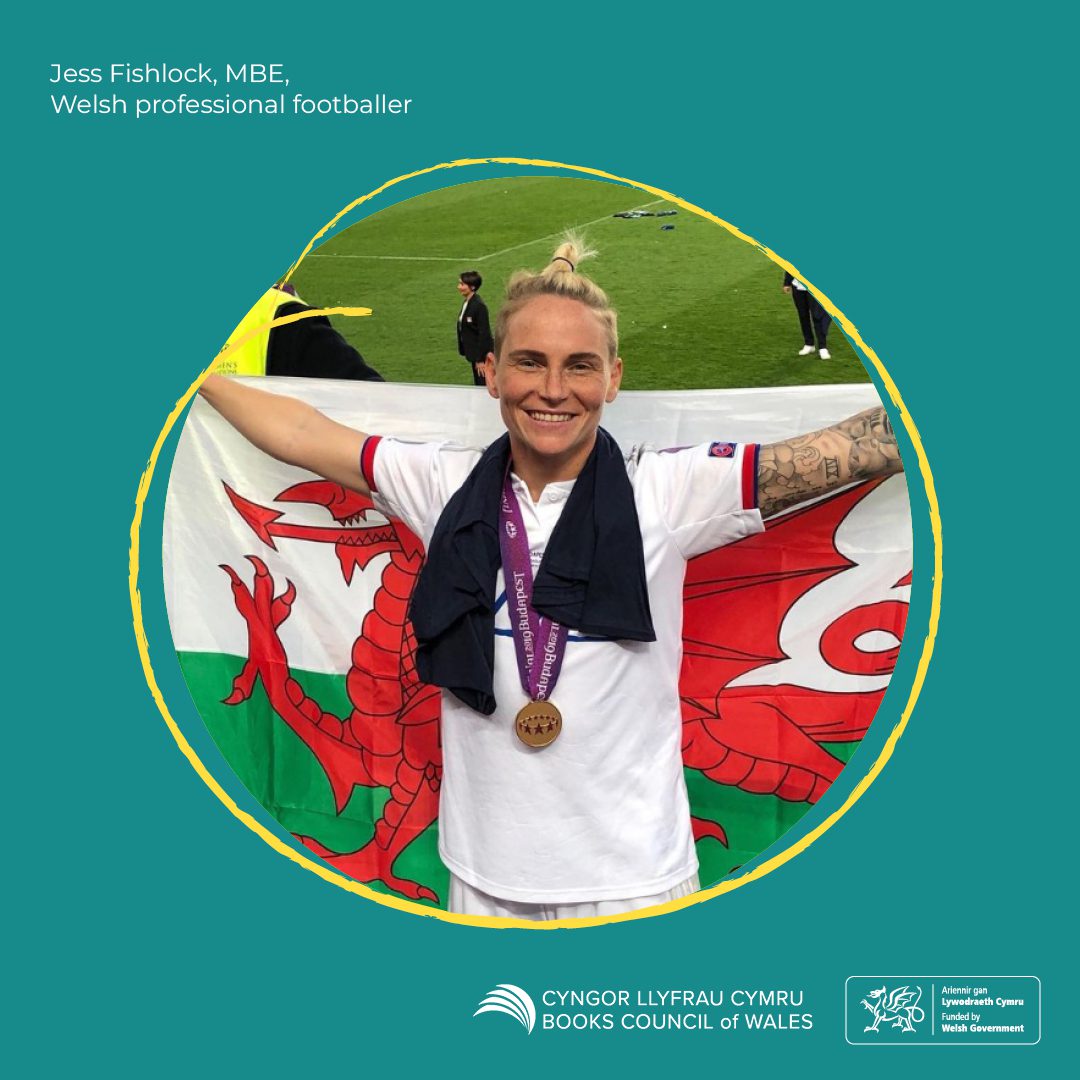 JESS FISHLOCK, MBE
Jess Fishlock, MBE, is a Welsh professional footballer, playing for the Wales national team and Seattle-based women's soccer team, OL Reign. In 2018, Jess received an MBE for her services to women's football and the LGBTQ community.
Jess grew up in Cardiff, and began playing football with her sister, before joining Cardiff City Ladies at the age of 7. In 2017, Jess became the first Welsh player (female or male) to gain 100 caps for the national team.
Jess currently resides in Seattle with her partner and teammate, Tziarra King and regularly returns to Wales for international duty and to visit her family. 
 "Reading and books have always been a steady part of my life."
I love reading. You can allow your brain to get creative, which is so fun and when you're young, your imagination is what allows you to find your creative side. It also helps with learning outside school, it helped me a lot when I was struggling.
Reading and books have been a steady part of my life. I haven't always appreciated just how much because it's been such a natural thing.
My mum used to read a lot when we were young, and I always had people read to me. I think that's why I read so much now. My siblings and I would either be reading stories or telling stories based on the books that we'd read. 
"I've got a tattoo that shows the impact books have had on my life."
As a child, some of my favourite books were written by Roald Dahl. James and The Giant Peach and The Witches were two of my favourites. I also read the Harry Potter series, and The Lord of The Rings books.
The Harry Potter films didn't come out until I was a bit older, so when I was growing up, all I had was my imagination to try and picture these amazing stories and characters, and it helped make me more creative. So many of those stories and characters have stayed with me. The Harry Potter series always makes me feel connected to my family.
One of my favourite quotes from Harry Potter is "You are protected, in short, by your ability to love," it's said by Albus Dumbledore in Harry Potter and The Half-Blood Prince – I've got that quote tattooed on me, so that just shows the impact those books have had on my life.
Now, rather than fictional books, I enjoy reading about true crime and the psychological side of crime, that sort of stuff, so there's been a slight left turn somewhere along the lines since childhood, but I do still enjoy getting stuck into a novel when I can! 
"We'd be doing a disservice to our country if we didn't allow these books to be readily available in the Welsh-language."
It's so important for young people to be reading Welsh language books. We're a small nation and we need to ensure that our history, culture, and language are as available and visible as possible. We'd be doing a disservice to our country if we didn't allow a variety of books to be readily available in the Welsh language.
If we don't maintain the history, culture, and language of Wales through the pages of books, then it'll gradually fade away, no other country is going to do it for us. We don't know what the political or cultural landscape will look like in the future, so we must protect our language right now, by ensuring we have books in Welsh. 
"The best place people can learn and understand these topics is still within books and at school."
The visibility of different communities and identities within books is so important. I struggled in school with bullying and coming to terms with my sexuality. I think if there had been books available for me at that time, to help me understand what I was thinking and feeling, then maybe I would not have gone through what I went through. I'm an advocate for even more visibility of the LGBTQ+ community within books for children to combat ignorance.
Schools have a responsibility to educate pupils on the world around them, and to equip them with a knowledge of people from all walks of life, this includes representation of people from the LGBTQ+ community within literature or even school textbooks.
In modern society, children and young people can access so much information at a young age, particularly on social media. Social media produces a lot of misinformation about diverse communities, so it's important this misinformation can be countered and properly understood within books and at school. 
"I don't think I've ever read a book and not learnt something, even if that's just the capital city of a country."
Whenever I read, even as an adult, I still feel like I'm always learning. That's the beauty of reading, you'll always come across something new. As I get older, I'm learning a lot about the brain, how the mind works, and I've used books to help with my playing performance. I also really love to learn new words, find out what they mean, and add them to my vocabulary. I don't think I've ever read a book and not learnt something, even if it's just the capital city of a country!
If I wrote a book about my life, I'd want people to realise what a normal life I've led, despite the craziness of moving around for my playing career! I'd want people to understand the challenges I've faced, so they could make the link to the things I believe in and the things I'm passionate about. I think although people would be interested in finding out more about my life as a footballer, I would also want my book to uncover more about who I am, and what has led me to certain points in my life.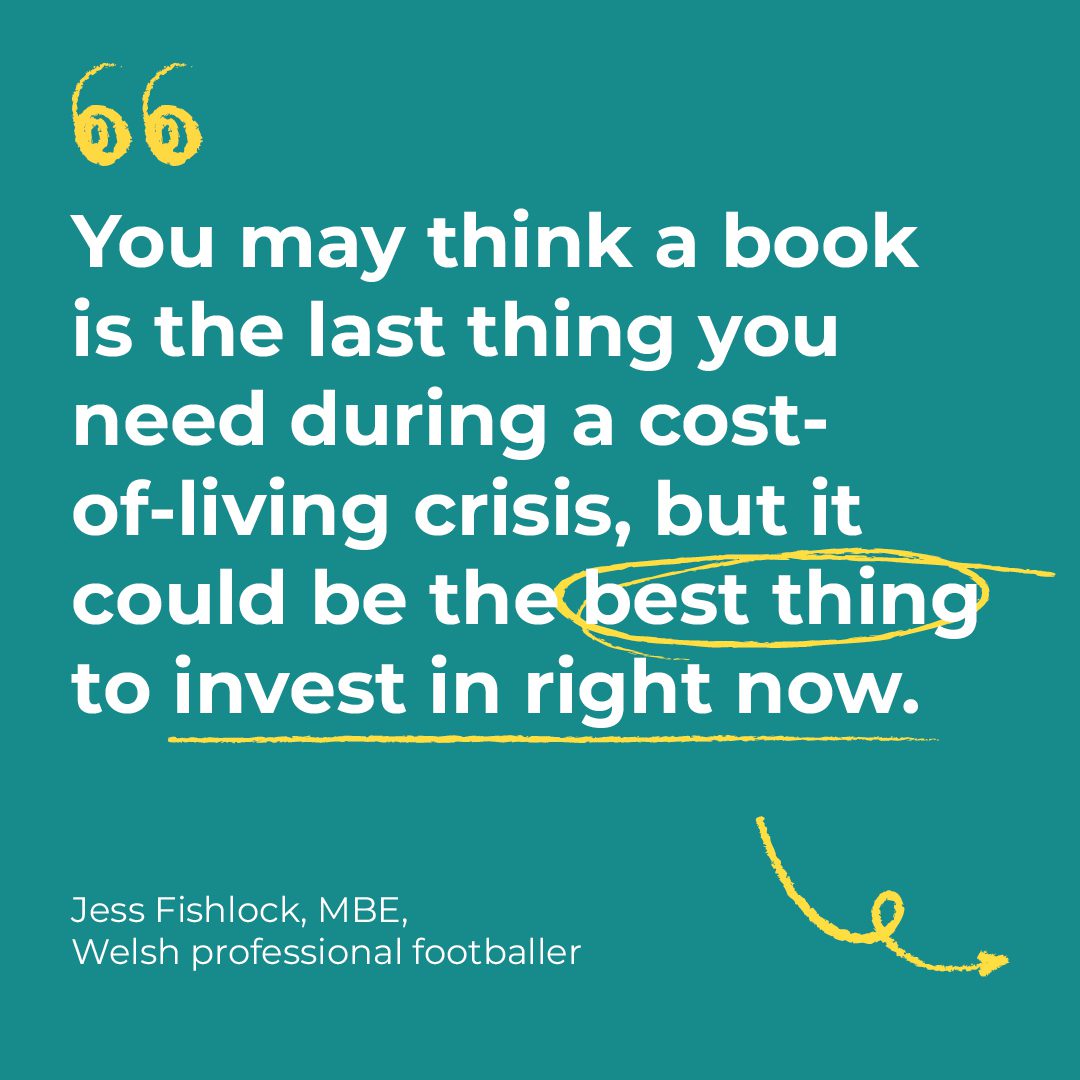 During difficult financial times, people can still find books by making the most of their access to local libraries, they are a great way to get your hands on books for free.
Here in Seattle, my friends and I do an online book swap, so we can continue to discover new books.
When times are tough, don't give up on reading. Having a safe place is so important, and for children that might just be a sci-fi universe, a love story, or a completely different world within the pages of a book. You may think a book is the last thing you need during a cost-of-living crisis, but it could be the best thing to invest in right now, as it has the ability to take you away from the noise of the outside world.
I would advise young people to take the initiative to read, inside and outside school because regardless of technology developing constantly, reading is so important for learning, and it is also so fun!