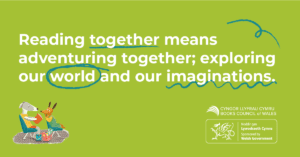 We're delighted that the Schools Love Reading programme to provide a free book for every pupil aged between 3 and 16 years old in state schools in Wales is now underway, and we can't wait to get the new books to children and families!
The selection of books has been carefully chosen by us, with advice and suggestions from pupils across Wales. There's plenty of choice, so that everyone can find the right book for them.
The books will be delivered to state primary schools throughout 2022 and we'll be letting the schools know in plenty of time, so be sure to check in with your school.
In the meantime, we'll be sharing films, reading inspiration and more information here and on the Books Council's social media channels.
Thank you to Welsh Government for funding the Schools Love Reading programme.