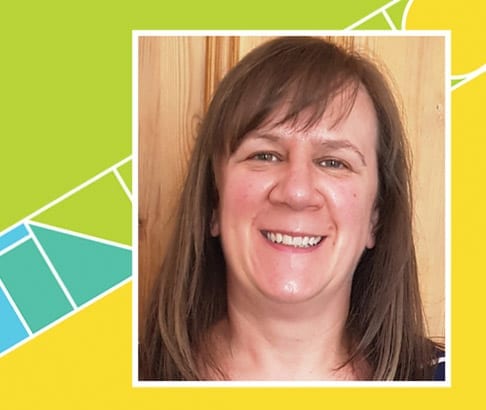 As Senior Library Assistant with Caerphilly County Borough Council , Alex Ball lives and breathes books. She's also no stranger to the world of children's book awards. She was a member of the Tir na n-Og Awards judging panel in 2021 and is Chair in 2022. Read on to find out more.
I am a qualified librarian who has worked in public libraries for a long time. I have been a library assistant, assistant librarian, community librarian and am currently a part-time senior library assistant working for Caerphilly Library Service. 
I am a member of the Youth Libraries Group in Wales where I hold the position of secretary and temporary treasurer. Recently I enrolled on a MA children's literature course, which I am thoroughly enjoying. When I am not reading, I enjoy yoga, belly dancing, crochet and a bit of colouring. 
I've always remembered being able to read. I can't remember when I couldn't and from about the age of eight, I practically lived in our local library. I think I read all the books in the children's section and was forever asking to be allowed to borrow books from the adult section.
When I worked as a community librarian I worked with children through contact with schools, Flying Start and nursery groups. I was Bookstart librarian for a few years so helped organise activities and resources. Through my involvement with the Youth Libraries Group in Wales I have been involved in shortlisting our Welsh nominations for the CILIP Carnegie and Greenaway awards.  
Books are a comfort to me, and I always have a pile ready just in case. The children's books available now amaze me, as the selection when I was young was limited. 
I think it is important for children to read and have stories read to them to develop their literary skills and assist their mental health by reducing stress. Toddler times, such as those encouraged by Bookstart, can help develop social skills too and teach children to communicate and share stories.   
It is an honour to be a judge for the Tir na n-Og prize and to discover books with a Welsh influence. Reading about places you know or are familiar with is heart-warming, and finding out about new places in Wales is exciting. I am looking forward to finding those special books which will encourage children to engage with reading.