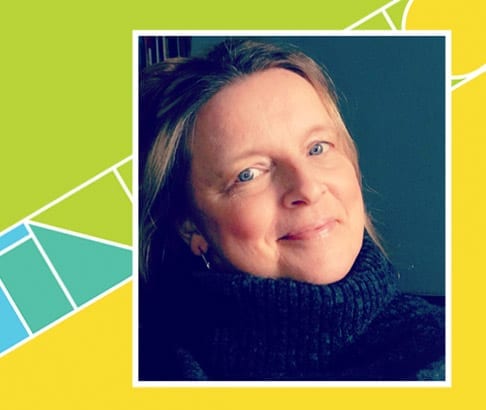 Jo Bowers is Associate Dean for Partnerships in the School of Education at Cardiff Metropolitan University. She was a member of the Tir na n-Og Awards judging panel in 2020 and is Chair in 2021. Books are an integral part of her everyday work but, she says, they've also been an important part of her life since she was a child. 
I have a lifelong interest in children's literature, developing children's reading for pleasure and teachers' subject knowledge of children's literature to support this.
I have loved reading and books since I was able to read and hold a book. I can vividly remember the day an independent bookshop opened in the town where I lived. My mum took me there one Saturday morning and I could choose whatever book I wanted, and from there started my love of bookshops too.
Ro'n i'n mynd i'r llyfrgell yn rheolaidd hefyd, felly roedd fy nhrwyn mewn llyfr o hyd, felly doedd hi'n ddim syndod i mi astudio llenyddiaeth Saesneg yn y brifysgol ac yna dilyn cwrs ymarfer dysgu. Rhwng y ddwy radd, un o fy swyddi oedd gweithio mewn siop lyfrau, wrth gwrs! 
Pan ddechreuais i ddysgu plant oedran cynradd, aildaniwyd fy nghariad at lyfrau plant ac fe ddaeth llyfrau yn rhan ganolog o'm dysgu ar draws y cwricwlwm i gyd.
Am y 15 o'r 19 mlynedd ro'n i'n dysgu, fi oedd arweinydd llythrennedd yr ysgol. Fel rhan o'r gwaith yma cyflwynais i fentrau drwy'r ysgol gyfan i ddathlu llyfrau ac annog plant i ddarllen er pleser.
Yn 2008 dechreuais weithio fel darlithydd llythrennedd mewn addysg gynradd, gan addysgu a chefnogi athrawon dan hyfforddiant a rhannu fy nghariad a'm hangerdd dros lyfrau â'r myfyrwyr. 
Fel rhan o 'ngwaith rwy'n trefnu digwyddiadau llythrennedd yn y brifysgol, gan gynnwys sgyrsiau awduron, digwyddiadau gyda Bardd Plant Cymru a Children's Laureate Wales, siarad ac arwain gweithdai mewn cynadleddau a rhannu ymchwil ar arferion da yn ymwneud â llyfrau a darllen i blant.
Yn ogystal â hyn, fi yw cynrychiolydd Cymru i'r United Kingdom Literacy Association (UKLA), ac rydw i wedi bod yn olygydd cylchgrawn llythrennedd athrawon cynradd yr English Association, English 4-11, sy'n dathlu ac yn rhannu prosiectau gyda phlant ym Mhrydain a thu hwnt sydd yn ymwneud â llyfrau plant.
Erbyn hyn rwy'n aelod o fwrdd golygyddol y cylchgrawn ac yn ysgrifennu erthyglau ar ei gyfer yn rheolaidd. Rwy'n rhedeg grŵp darllen er pleser ar gyfer athrawon ac yn adolygu ystod eang o blant yn rheolaidd. 
Mae llyfrau plant wedi bod wrth graidd fy ngyrfa addysgu ac rwy'n parhau i'w darllen yn frwd. Yn y cymunedau a'r grwpiau rwy wedi gweithio â nhw gwelais sut mae llyfrau plant yn rhoi pleser, yn creu cymunedau o ddarllenwyr ac yn cefnogi llesiant.
Mae myfyrwyr ac athrawon yn dweud yn aml fod llyfrau fel ffrindiau gorau yn ystod adegau anodd! Yn ystod y pandemig a'r cyfnodau clo diweddar mae llawer o athrawon wedi bod yn dweud bod darllen ar goedd, gartref ac yn yr ysgol, wedi bod yn llesol iawn i blant ac athrawon. Mae gwneud hyn yn cynnig cysur ac amser i bawb ymlacio a chodi calon.
Gweld myfyrwyr ac athrawon yn datblygu eu cariad eu hunain at ddarllen, ac yn eu tro yn ysbrydoli'r plant maen nhw'n eu dysgu, yw un o bleserau mwyaf fy ngwaith i. 
Rydw i wrth fy modd yn bod yn feirniad gwobrau Tir na n-Og. Mae'n hollbwysig i blant weld eu hunain, a llefydd sydd yn gyfarwydd iddyn nhw, mewn llyfrau, ac i blant yng Nghymru mae hynny'n golygu llefydd yng Nghymru.
Gwobr Tir na n-Og yw'r unig wobr llyfrau plant sy'n gosod hynny fel maen prawf, sy'n ei gwneud yn wobr unigryw ac yn lle i ddathlu'r llenyddiaeth plant Gymreig orau.