Strong characters and a heartfelt wartime novel were the winners of the 2022 Tir na n-Og Awards. The winners of the Welsh-language category were announced on Thurday, 2 June at the Urdd Eisteddfod in Denbighshire and the English-language category was announced on Radio Wales Arts Show on Friday, 20 May 2022.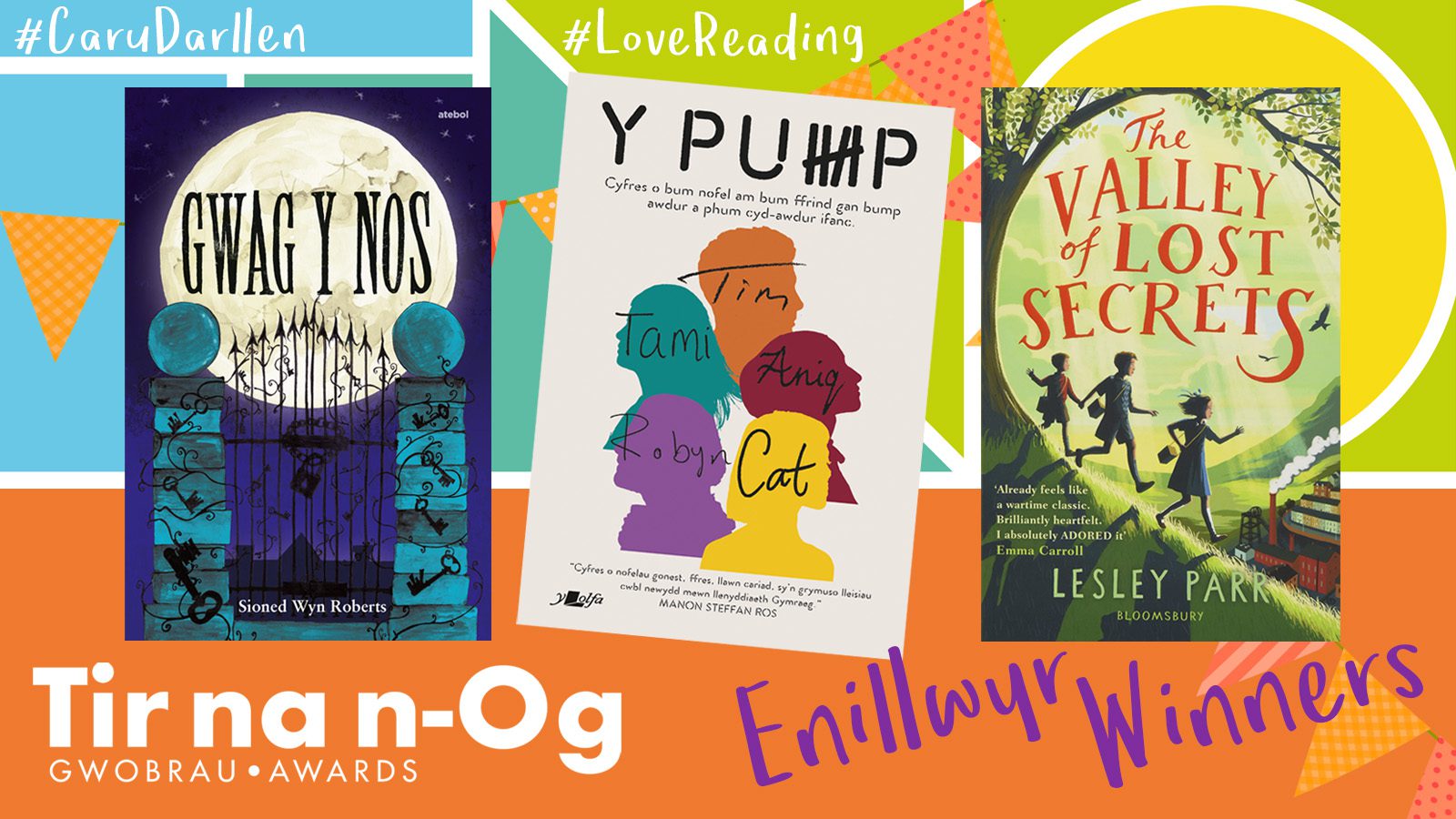 The three winning novels in the 2022 Tir na n-Og Awards were Gwag y Nos by Sioned Wyn Roberts (Atebol), Y Pump, ed. Elgan Rhys (Y Lolfa) and The Valley of the Lost Secrets by Lesley Parr (Bloomsbury).
WELSH LANGUAGE PRIMARY CATEGORY
Gwag y Nos by Sioned Wyn Roberts (published by Atebol)
The Victorian era and the cruel world of the workhouse are brought to life through the adventures of rebel Magi, the likeable and mischievous main character of the story. We follow Magi as she goes from the Gwag y Nos workhouse to Plas Aberhiraeth, and encounters memorable characters such as Mrs Rowlands, Nurse Jenat and Cook. As we follow the twists and turns of the story, we want to know the answer to the same question as Magi – what is the dark secret of Gwag y Nos?
WELSH LANGUAGE SECONDARY CATEGORY
Secondary school age category winner – Y Pump, edited by Elgan Rhys (published by Y Lolfa)
Y Pump (The Five) follows a group of pupils at Llwyd Secondary School, as they discover the power their otherness gives them when they come together as a community. Through the unique perspectives of Tim, Tami, Aniq, Robyn and Cat, we get to recognise the complex reality of being a young person who is marginalised. With editor Elgan Rhys, five young writers have worked in collaboration with more experienced authors to create this ambitious, experimental, powerful series of stories.
The titles and authors of the five individual volumes are: Tim (by Elgan Rhys and Tomos Jones), Tami (by Mared Roberts and Ceri-Ann Gatehouse), Aniq (by Marged Elen Wiliam and Mahum Umer), Robyn (by Iestyn Tyne and Leo Drayton) and Cat (by Megan Angharad Hunter and Maisie Awen).
ENGLISH LANGUAGE CATEGORY
The Valley of the Lost Secrets by Lesley Parr (Bloomsbury, 2021) – a heartfelt wartime novel set in the south Wales valleys – won the 2022 Tir na n-Og English-language award for children and young poeple.
FURTHER DETAILS