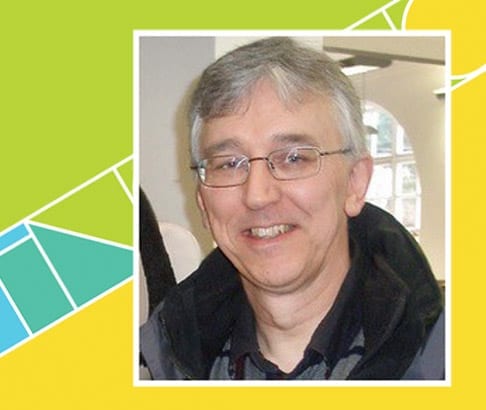 Hywel James is Chair of the panel responsible for judging the Welsh-language books in the primary and secondary categories of the Tir na n-Og Awards 2021. As Gwynedd's former Chief Librarian, reading has been an important part of his life since childhood. He's been speaking to us about his long association with the world of books. 
After I qualified as a librarian from the College of Librarianship Wales (which is now a part of Aberystwyth University) I worked for Gwynedd Council, firstly as a children's librarian and then as the Principal Librarian for over 20 years.   
Recently I have volunteered as a librarian in the Tŷ Newydd Writing Centre in Llanystumdwy – partly because I want to support the important work of nurturing new authors and poets and supporting the more experienced writers too. 
Some of my earliest memories of reading include my father reading Llyfr Mawr y Plant to me before I went to sleep – one of the few Welsh–language children's books with colour pictures at the time – and Mam introducing me to the characters form The Wind in the Willows after borrowing a copy from the library. 
When I was in primary school I looked forward to receiving a new supply of book from the Schools Library Service and enjoying T. Llew Jones' adventure stories, which sparked my interest in myths and history, and Welsh history in particular.  
My 15 years as a children's librarian were the happiest of my career; it was a delight to introduce books and the pleasure of reading to children. This experience coincided perfectly with raising two children (a boy and a girl) and I was able to ensure that they both had plenty of books at home – a very enjoyable task.  
Children are naturally curious and full of imagination, and while it's important to nurture that we also have a duty to introduce information about the real world. I was very fortunate to have parents and teachers who realised the importance of reading and I inherited the same attitude to books.  
I strongly believe that books can transform the lives of children and young people. The challenge for every parent, teacher and librarian is to have the right book at the right time for the young reader, be they picture books, stories, poetry, or non-fiction books, as long as it's presented creatively and in a way that's appropriate and acceptable for the reader.   
As a librarian I'm very aware of the need to maintain the standard of what's available to readers. Public libraries can only have a selection of the books that are available, so it's important to ensure that those books are of a good quality.
Awards like Tir na n-Og are one way of maintaining the highest standard amongst the provision for children and young people, and so being a judge is a very special privilege. Being a judge also offers the opportunity to discuss books with other people who appreciate the importance of good books for children and young people – another pleasurable task.