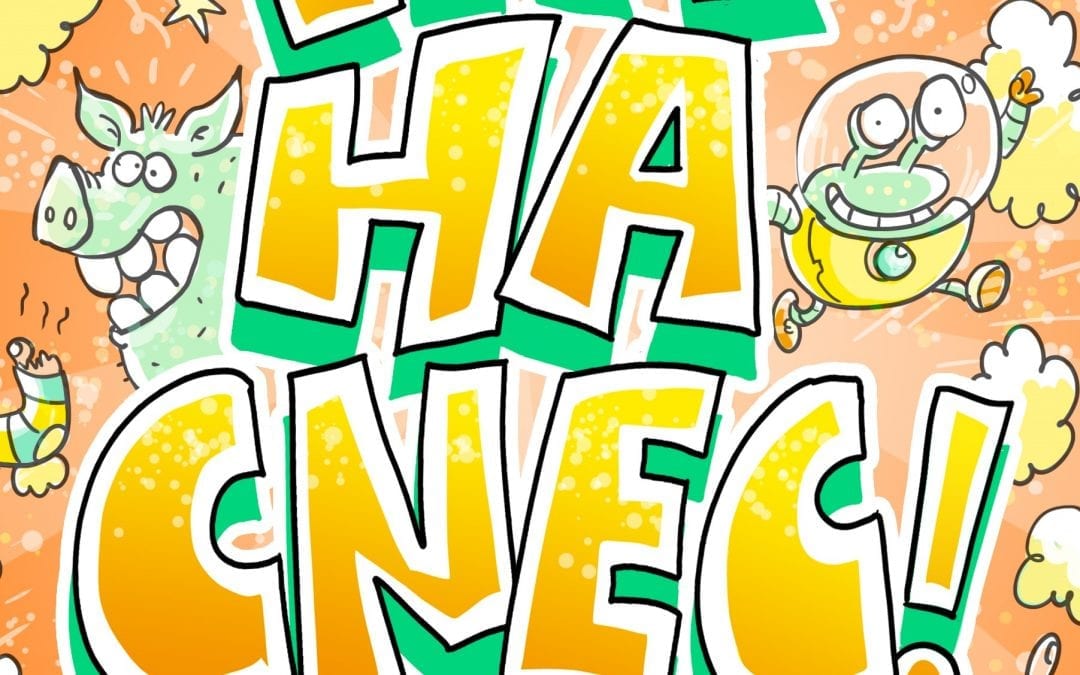 The Books Council of Wales is delighted to announce that Huw Aaron is the author of the new £1 Welsh-language book being published for World Book Day 2021.
In his own distinctive style, the talented cartoonist and illustrator from Cardiff is creating Ha Ha Cnec for children young and old to enjoy on the next World Book Day, 4 March 2021.
As the title suggests, the volume will be packed with jokes and cartoons along with some of Huw's unique characters.
To celebrate the announcement of the title, the Books Council has organised a special competition to find 150 characters from Welsh children's books and television programmes which Huw has hidden in a busy poster.
Competition Time
The 'Ble yn y byd, Boc?' ('Where in the world, Boc') competition is open to schools and individuals of all ages, and there are some great prizes to be won.
The winner of the schools' category will receive a bundle of books worth £150, with a second prize of a bundle of books worth £75.
The top prize in the individual category will be an original piece of Huw Aaron's artwork and a bundle of books worth £50, with a second prize of a bundle of books worth £25.
Huw Aaron said: "I am delighted to be part of the celebrations for World Book Day 2021. For the competition, I've drawn a picture of a very special party where all the guests are characters from Welsh children's books or television programmes – some new, some from my childhood, and some which are very old by now! There are 150 to find – but you may need the help of mum and dad (and maybe Mam-gu or Taid!). Pob lwc!"
You can enter the competition by going to www.mellten.com before the closing date of 31 January 2021. The winners will be announced on World Book Day 4 March 2021.
Copies of Ha Ha Cnec (Llyfrau Broga) will be available to buy for £1 from 25 February 2021 or exchanged for the £1 National Book Token given to each child to mark World Book Day.
Stori Cymru – Iaith a Gwaith ('The Story of Wales – Language and Work'), written by Archdruid Myrddin ap Dafydd and published by Gwasg Carreg Gwalch, will also be available again in 2021 for £1. It tells the story of Wales and the work of its people through story, image and song.
Accessible versions of the books, including braille, large print and audio versions, will be available thanks to the support of the RNIB. They will also be available as e-books.
Angharad Sinclair, the Welsh Books Council's Promotion of Reading Campaigns Manager, said: "World Book Day aims to ensure that every child has the opportunity to have their own book and to help them enjoy the experience of reading for pleasure, with all the benefits that brings. We are therefore delighted that Huw Aaron has agreed to create a new book which, alongside Myrddin ap Dafydd's book, will ensure there's a good choice of Welsh-language children books available for £1 or for free on World Book Day 2021. "
The poster behind the competition appears in the new book Ble mae Boc? Ar goll yn y chwedlau ('Where's Boc? Lost in the legends') by Huw Aaron, published by Y Lolfa in November 2020 and selected as the Books Council's Book of the Month for December 2020.
World Book Day
In Wales, the World Book Day campaign is coordinated by the Books Council of Wales and supported by the Welsh Government and Waterstones.
Each year, in collaboration with a host of publishers and booksellers, World Book Day organizes a list of specific titles for £1 each for children and young people, and the mission of World Book Day is to encourage them to enjoy books and reading by for them to have their own book. The Books Council of Wales works with World Book Day to ensure a choice of £1 Welsh-language titles. Information on the English £1 books for 2021 can be found online www.worldbookday.com/books and further details about World Book Day 2021 celebrations in Wales will be announced in the New Year.