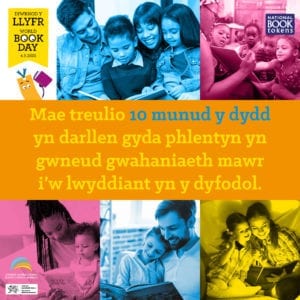 Sharing stories is a great way to celebrate reading together on World Book Day 2021. So, we are inviting everyone to join in our story sharing competition.
Post a picture of you sharing a story with your family, your cat or reading at your favourite location!
Remember to tag @Books_Wales and include #ShareaStory #WorldBookDayWales #lovereading
If you prefer, you can also email the photo to us – cllc.plant@books.wales
Sharing a story could be reading at home with your family, reading in your favourite niche, reading in an unusual setting, sharing a story with your pet, reading a book dressed as your favourite character, and more!
This competition runs from 4–31 March 2021.
Prizes: The top 5 pictures will win a pile of books worth £30.
See our Privacy Policy here – https://llyfrau.cymru/ein-polisiau/dogfennau-corfforaethol/polisi-preifatrwydd/