Welsh-language shortlist revealed for Wales' oldest children's book awards – the Tir na n-Og Awards 2023
The Books Council of Wales revealed the Welsh-language shortlists for this year's Tir na n-Og Awards on S4C's progamme, Heno, on Thursday, 23 March. The awards celebrate the very best of stories from Wales and stories of Wales published in 2022.
This year's shortlist celebrates the wide range of different formats published over the last year to inspire young readers. Including story and picture books, humorous rhymes for small children, a graphic novel, short stories and novels – there's something for everyone.
The Tir na n-Og Awards are the oldest and most popular awards for children's literature in Wales and are held every year by the Books Council of Wales, sponsored by CILIP Cymru Wales. They celebrate the talents of authors and illustrators who either create original works in Welsh, or who write about authentically Welsh themes or backgrounds through the medium of English.
Some of Wales' leading authors and illustrators have won the award in previous years, including Manon Steffan Ros, Jac Jones, Caryl Lewis and Gareth F. Williams. The aim is to celebrate reading for pleasure and to inspire reading choices for young readers. Through the awards, children and young people can enjoy and be inspired by stories and writing from or about Wales.
The Welsh-language prize has two categories: Primary (age 4–11) and Secondary (age 11–18).
Primary Age Shortlist
Dros y Môr a'r Mynyddoedd, various authors, illustrated by Elin Manon (Gwasg Carreg Gwalch)
A beautiful collection of international Celtic stories. While each story is unique and different they all have one thing in common – the strong and determined female characters that lead each one.
Dwi Eisiau Bod yn Ddeinosor, Huw Aaron and Luned Aaron (Atebol)
A modern, funny and colourful book that's full of fun, with an important message – you're enough just as you are.
Enwogion o Fri: Nye – Bywyd Angerddol Aneurin Bevan, Manon Steffan Ros, illustrated by Valériane Leblond (Llyfrau Broga)
The perfect combination of words and pictures come together to tell the story of a shy young boy from South Wales, who succeeded in helping millions of people through his work to establish one of our national treasures.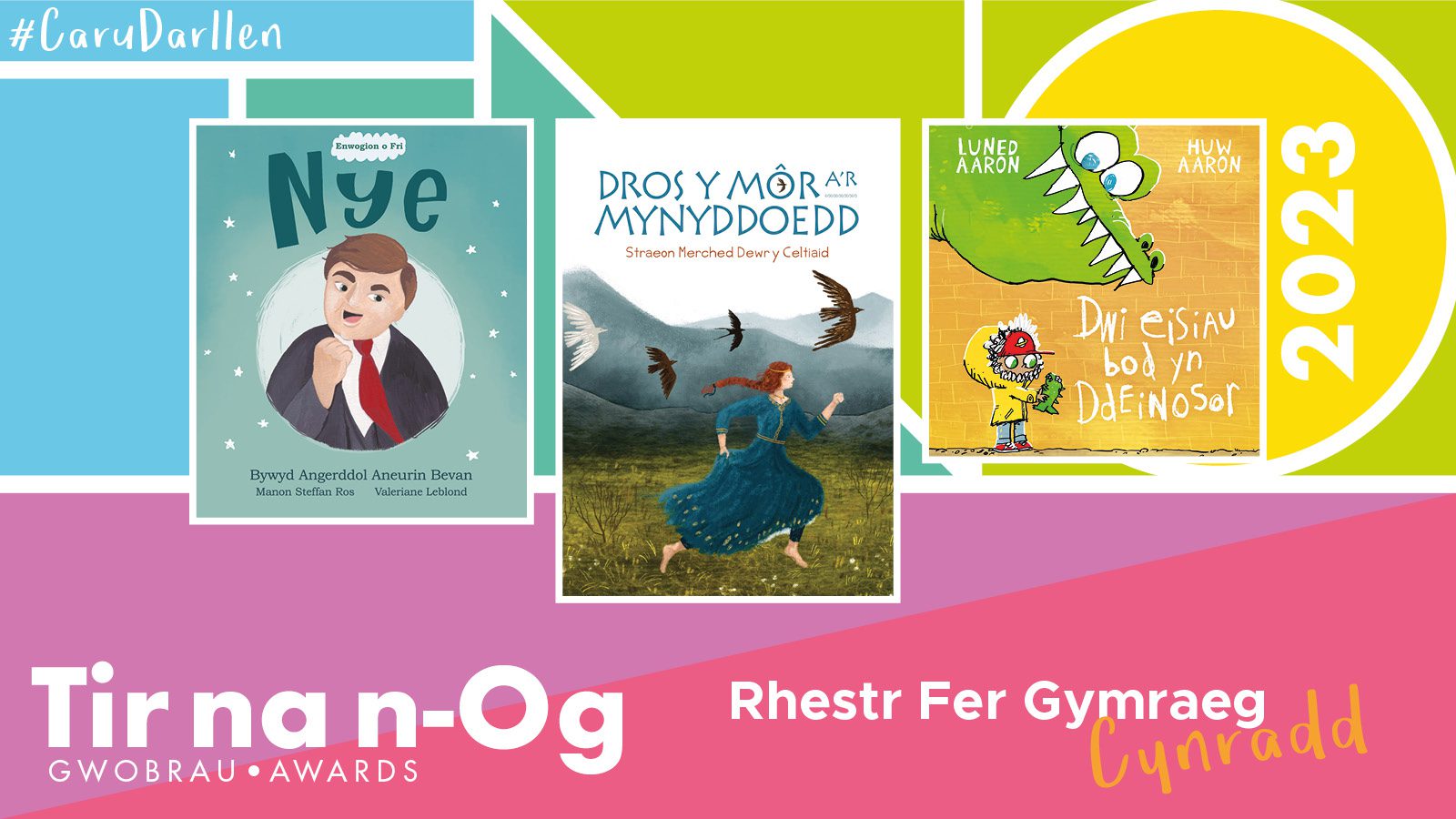 Secondary Age Shortlist
Gwlad yr Asyn, Wyn Mason, illustrated by Efa Blosse Mason (Gwasg Carreg Gwalch)
A witty and unusual graphic novel, based on a stage play. It tells the story of a donkey that is used to spending all its time around people, but by the end she comes to question her own identity!
Manawydan Jones: Y Pair Dadeni, Alun Davies (Y Lolfa)
A fantasy adventure full of mystery that crosses the boundary between the real and magical worlds. A modern and fresh twist on the old tales of the Mabinogi, presented for a new generation.
Powell, Manon Steffan Ros (Y Lolfa)
A poignant, important and timely novel that shines a light on a difficult subject – Wales' role in the slave industry. As we have come to expect from the author, it is the characters who are at the heart of the story throughout.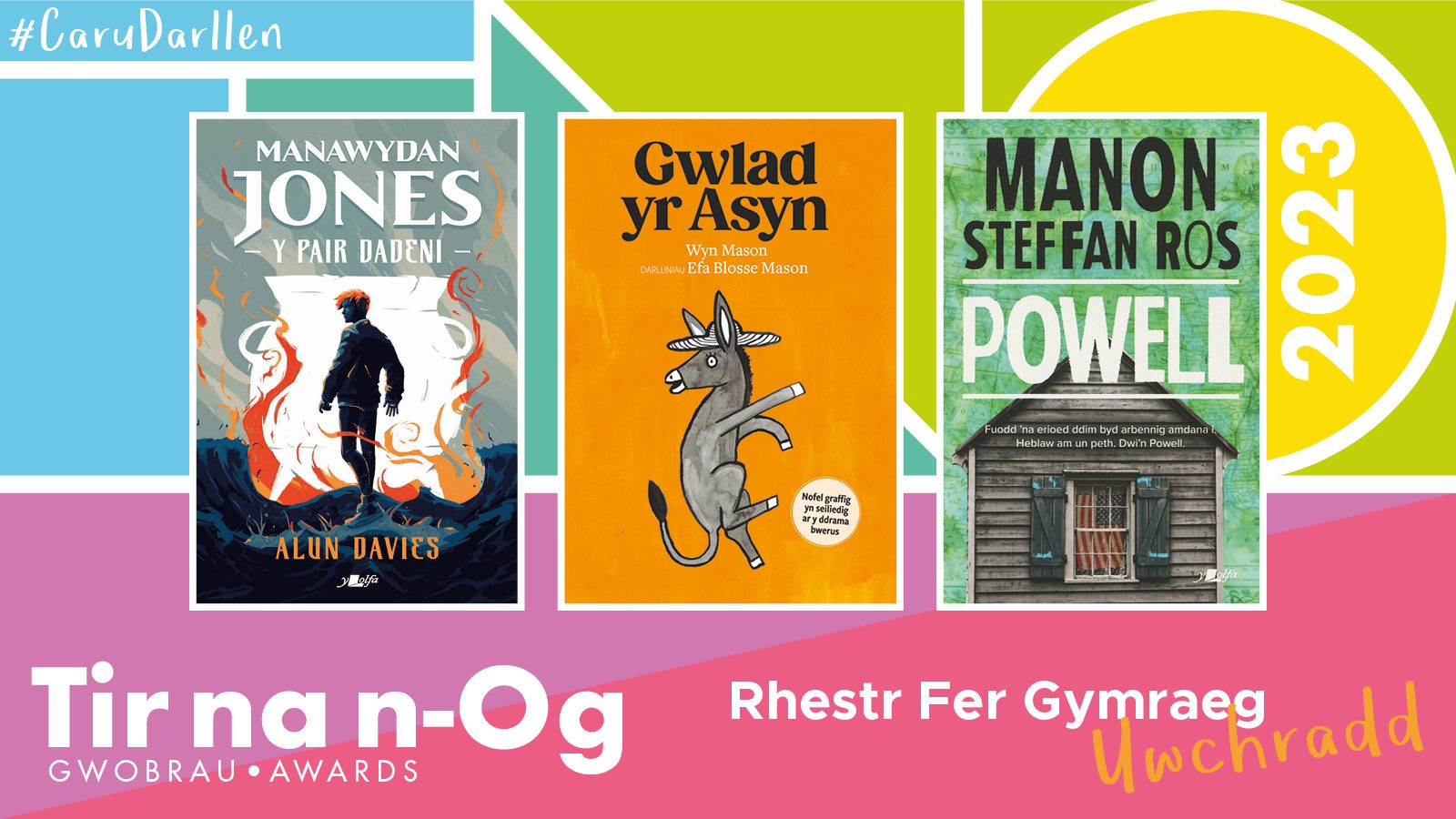 Independent panels of judges select the shortlists and decide on the winners for the Welsh and English awards each year. This year's judges on the Welsh-language panel were Morgan Dafydd (Chair), Sara Yassine, Francesca Sciarrillo, Sioned Dafydd (secondary) and Siôn Edwards (primary), who bring with them a wealth of experience and passion for children's books.
The Chair of the Welsh-language Panel, Morgan Dafydd, said: "Despite the cost of living crisis, from looking at this year's provision we can see that the book industry continues to hold its ground and that creativity is flourishing. This year we saw a mixture of new names in the world of children's books alongside more familiar ones. In my third year on the panel I can say with certainty that the standard is very high this year – and in truth it continues to rise every year."
Helgard Krause, Chief Executive of the Books Council of Wales, said: "Congratulations to everyone involved in creating the wonderful books on this year's shortlist. It's heartening to see original Welsh-language books in such a range of different formats that will appeal to young readers. I'm really looking forward to discovering which books will take the awards this year."
The English-language shortlist will be announced at 18:30 on Friday, 24 March on the Radio Wales Arts Show.
This year there will be a special category: the Readers' Choice Award. This award is chosen by children and young people who take part in the Tir na n-Og shadowing scheme. Schools, libraries and other children's reading groups can register to take part and be unofficial judges to choose a winner from the shortlisted books, with the guidance of the shadowing pack. You can find out how to register on the Books Council's website.
The winning titles in each category will be announced on Thursday, 1 June at the Urdd Eisteddfod in Llandovery, Carmarthenshire (Welsh-language), and on Friday, 2 June on the Radio Wales Arts Show (English-language).
Bookshops will be holding Tir na n-Og Treasure Hunts over the Easter holidays with the chance for children aged 4–11 to win a £15 book token. Ask your local bookshop for details.
Further information about the awards and the shortlisted titles can be found on the Books Council's website.